Curriculum Spotlight – Artistic Pursuits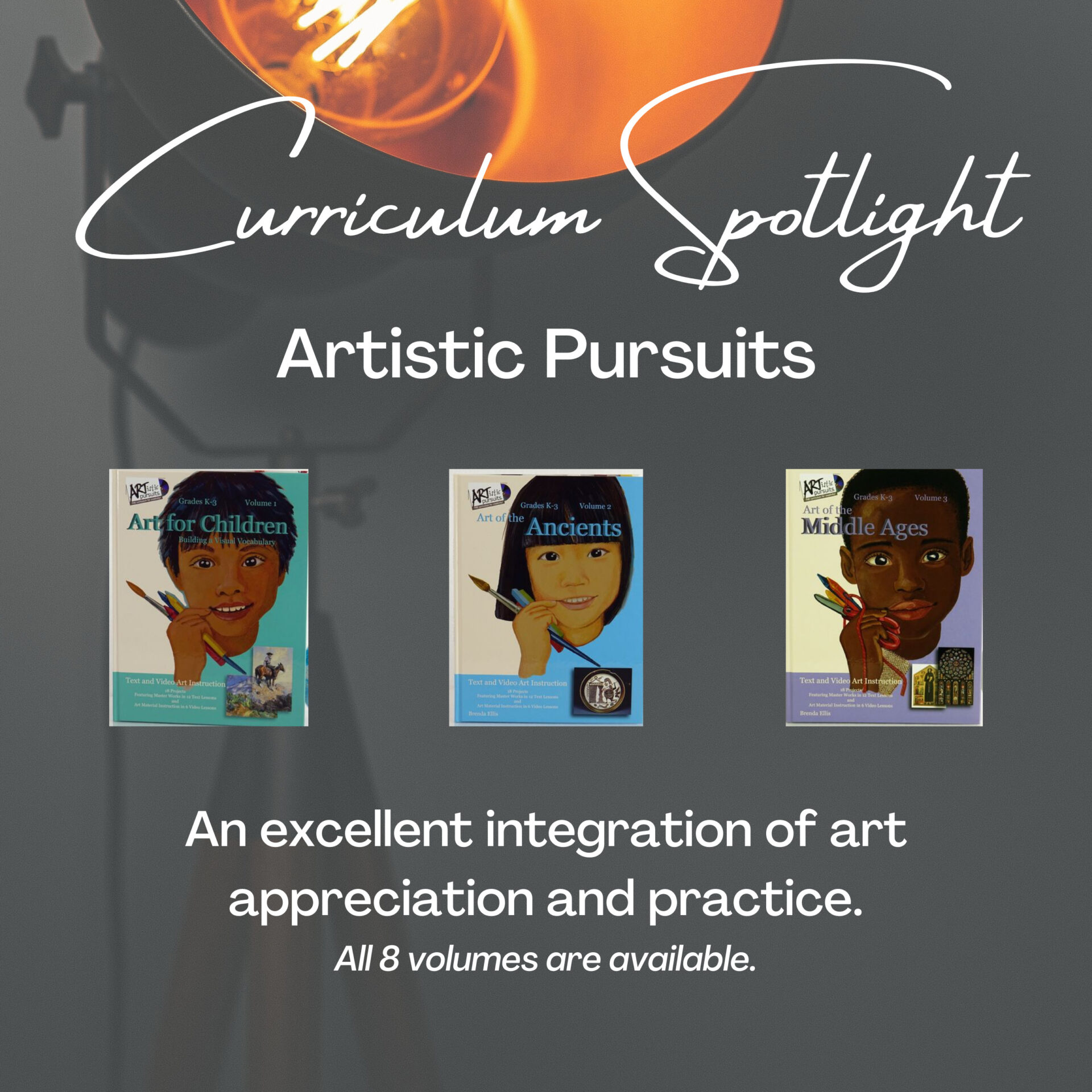 This program is an excellent integration of art appreciation and practice. It must start with Volume 1, Art for Children: Building a Visual Vocabulary. As the foundational text for this curriculum, it teaches the various styles used by artists and instructs the child how to replicate the style. The lessons focus on the artistic process of imagining, observing and communicating, while also teaching the practical details of working with varied materials to produce the art. The students will use chalk, paper, and oils and their objects will be nature, household items, and famous paintings.  
Once a student has completed Volume 1, they will understand the terms necessary to complete any of the following 7 Volumes. These volumes take the student through a chronological history of art using the techniques that they learned in Volume 1. They will study the various masterpieces of each era, including cave art, sculpting, mosaics, portraits, abstract and so much more. They will replicate the art using the techniques and materials that they learned about in level one although there will be several variations taught throughout the program. Volumes 2-8 are an excellent art study to accompany a history program for any classroom or home.  
Each text includes a DVD with lessons to help the student understand what they need to learn. Not every lesson has a video to accompany it. The video will start with a concept that is worked out over a few lessons, and then either added onto or changed in the next video.  
The books begin with a list of materials needed to complete the volume. The lists contain art materials specific to a lesson, household items, and a list of items to buy that will create an art library that you can use throughout the course. The more volumes you complete, the larger your art library will become meaning you will not have to buy new supplies for each volume.  
The books are written clearly, with illustrations to help communicate the concept and aid the student in communicating their own version of art. They can be done by an older, self-motivated student, or used to instruct younger students. Where relevant, there is instruction on how to teach the lesson to a class of students.  
Each book has 18 lessons. They could be done on a bi-weekly basis covering a year, or one book could be completed per semester. Depending on your needs, this program is flexible in when the lessons are taught. Its simplicity does not require any prior knowledge of art to teach it.  
Whether you do one or eight books, this program is sure to encourage observation in your child, and a portfolio of work that they can look on with joy as they see themselves improving over time.  
Quick facts:
Must start with Volume 

1.

 

Can use 

any Volume 

afterward.

 

Books 

contain

 lists of items needed to complete the 

course.

 

It h

as a DVD with a teacher to help 

with concepts

.

 

Accompanies a history program very well

.

 
Volume 2 – Art of the Ancients
Volume 3 – Art of the Middle Ages
Volume 4 – Artists that Shaped the Italian Renaissance
Volume 5 – Art of the Northern Countries
Volume 6 – Art of the Impressionists
Volume 7 – Art of the Modern Age
---
by Hester VanBraeden
Hester is a second-generation home-educating parent who is keenly aware that her own education is not complete, and comfortable that it probably never will be. She has many years of experience with children, books, and curriculum. She loves to travel to worlds and times beyond the present with her children through many books. Hester and her husband have four children and live in the lower mainland of BC.
---