Curriculum Spotlight – Center for Lit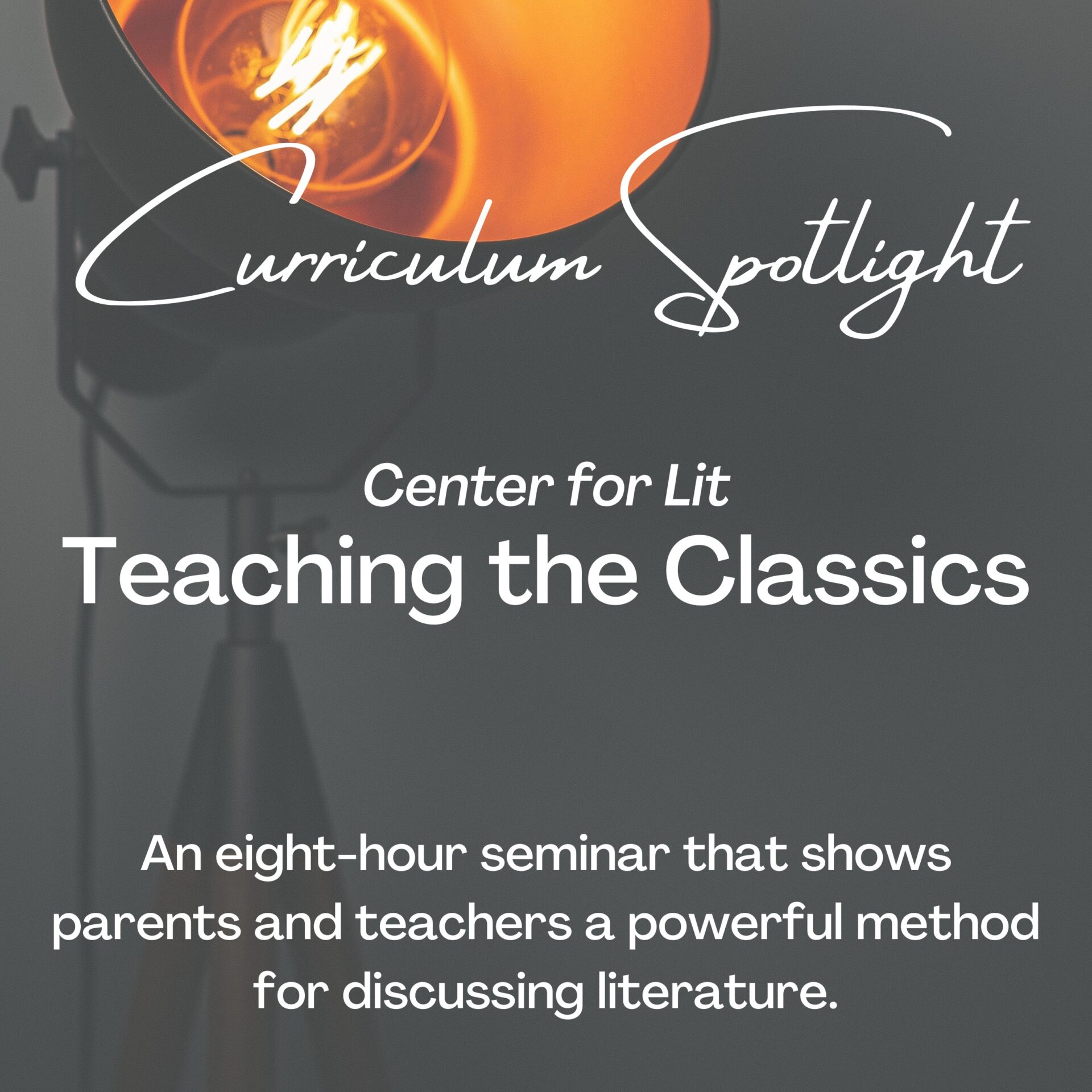 The Center for Lit has done something amazing for teaching literature. You don't need textbooks or analytical reviews. You just need to know how to ask the right questions.
Their flagship product, Teaching the Classics is an eight-hour seminar for parents, teachers, and readers. It gives them a tool for reading literature that acts like a pair of glasses which are to be worn whenever you read a book. This method shows how every story has the same structure, and it provides a long list of questions that will equip the teacher or parent to begin a Socratic Dialogue. By using dialogue a teacher can help the student engage with the story in a way that challenges his own views and opinions, rather than asking the student to assess a story whereby he just applies his paradigm to the text. Teaching the Classics also reviews literary devices and their importance to understanding classic literature.
This program is for all grades and beyond. In fact, it's easiest to start to learn how to teach with dialogue using kids' picture books. A shorter story means less that gets in the way of spotting the key elements. But we can use this with texts as complex as Tolstoy or Tolkien. Beyond the seminar, the only thing you need is a desire to learn, and a good book.
Once you have completed the seminar, Center for Lit helps us choose books for each grade level in their book Read Roadmaps. This guide also gives us a summary of each book and short notes for the teacher as tips for Socratic dialogue.
If you want to have complete lesson plans for select books, you can use the Ready Readers. The Ready Readers Series have texts for Elementary to High School, even one for The Chronicles of Narnia. Each Reader provides several lessons for each book and they cover specific questions mapped out for the teacher, all within the scope of what was discussed in the seminar Teaching the Classics. You must watch the seminar to understand the scope of what these books are doing. I highly recommend the Ready Readers as a reliable support for teaching literature in the form of a Socratic dialogue.
Quick Facts:
Teaching the Classics is the central piece of this program. It's all you need.
Teaching the Classics is a DVD seminar with a workbook that can be done as a group. You will need to purchase additional workbooks for each viewer.
Reading Roadmaps is a K-12 booklist with summaries of Teaching the Classics story chart.
Ready Readers are open and go lesson plans for selected titles.
This method can be used on any text, you do not have to use the Reading Roadmaps or the Ready Readers.
---
by Hester VanBraeden
Hester is a second-generation home-educating parent who is keenly aware that her own education is not complete, and comfortable that it probably never will be. She has many years of experience with children, books, and curriculum. She loves to travel to worlds and times beyond the present with her children through many books. Hester and her husband have four children and live in the lower mainland of BC.
---